Data Matters No. 18
(This article is a translation of the Burmese language version that ISP-Myanmar posted on its Facebook page on May 12, 2022.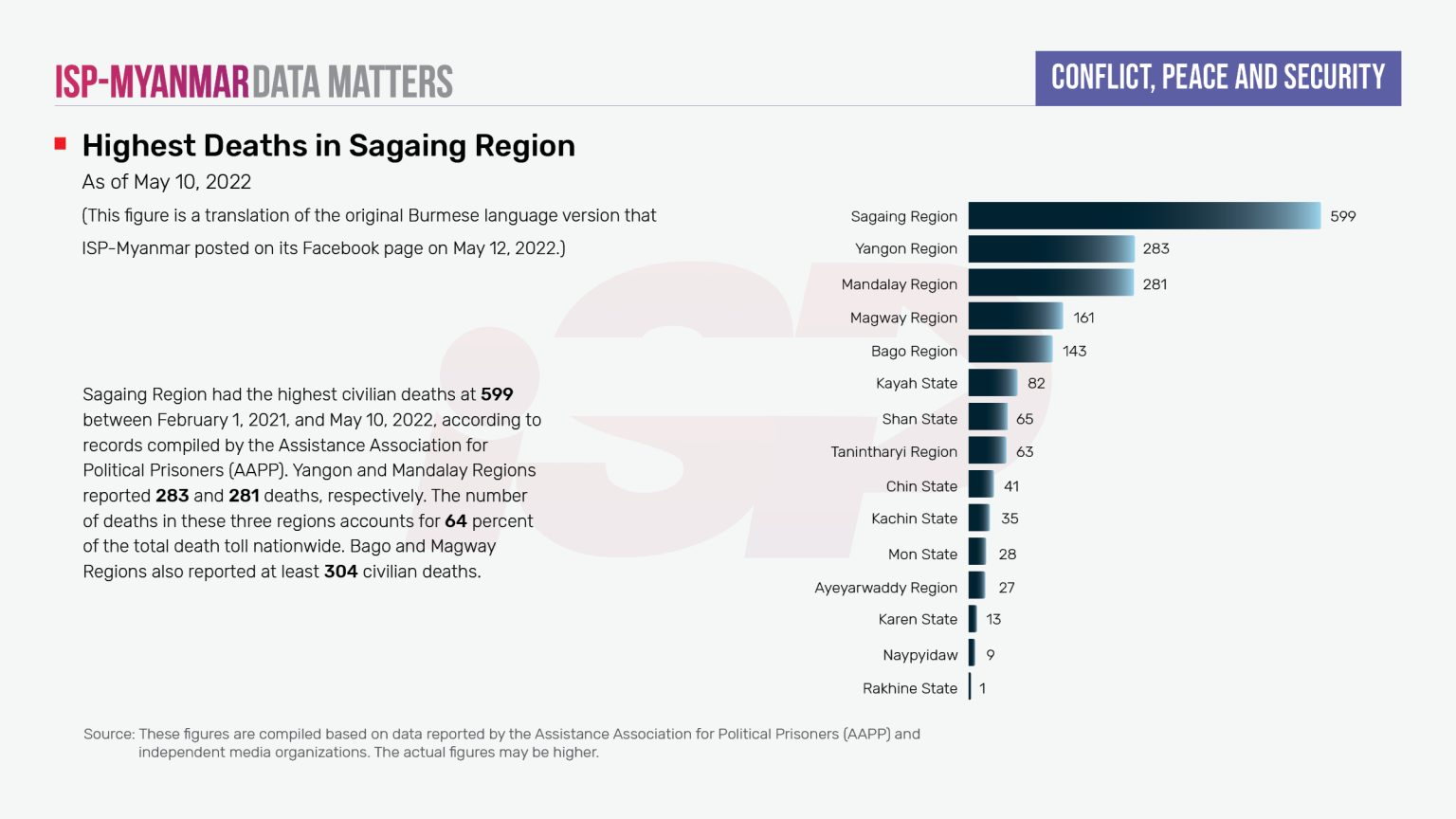 At least 5,646 civilians were killed in the aftermath of the military coup between February 1, 2021 and May 10, 2022. Among the 5,646, at least 1,831 people died as a result of shootings in connection with anti-coup protests and subsequent arrests. Another 3,107 were killed because they were suspected of being military informants, according to a statement issued during a State Administration Council (SAC) press conference as well as comments made by the chairman of the Union Solidarity and Development Party (USDP). . Some 690 people were killed as a result of the ensuing armed conflicts, and 18 others were said to have died because of violence associated with blood alliance groups.
Even though more than a year has passed since the military coup, the death toll from arrests and torture while in military detention centers continues to rise. Some1,831 people were killed during protests in the aftermath of  the coup, with Sagaing Region registering the highest number of civilian deaths at 599. Yangon Region  had 283 deaths, while Mandalay Region had 281, Magway Region had 161, and Bago Region had 143. Other regions including Kayah, Shan, Chin, Kachin, Mon, Karen, and Rakhine states and the regions of Naypyidaw, Tanintharyi and Ayeyarwady also reported civilian deaths ranging from one to 82. as
The blood alliance groups and Swon Ye group (lit. The Black Kite group) which were formed in April 2022 have started arresting and killing members of the National League for Democracy (NLD) and their families as well as  others who support the People's Defense Force against military rule. These groups have raided the homes of targeted residents and left dead bodies around the city as a message. About 18 civilians were killed between April 24 and May 10, 2022 after the emergence of the blood alliance groups and Swon Ye group.
Data relating to civilian deaths from shootings and arrests during protests comes from the Assistance Association for Political Prisoners (AAPP), while information about the killing of alleged military informants is based on statements from the SAC press conference on January 14, as well as figures revealed by the USDP chairman during a Q&A with BBC Burmese in May 2022. Fatalities from violence related to blood alliance groups are based on information compiled by independent media groups and ISP-Myanmar.
∎ Why does it matter?
Studying the number of violent crackdowns, the number of victims who died during those crackdowns, the number of people killed as a result of targeted operations, as well as studying exactly how people were killed, can provide insight into the extent to which SAC's forces have complied with internationally-agreed upon rules and regulations for dealing with mass protests. This data can also be used to determine whether human rights violations were committed from the perspective of transitional justice.
∎ Other relevant readings
Independent media and independent organizations such as the Assistance Association for Political Prisoners (AAPP) have monitored and collected detailed data on the number of protesters who were targeted, arrested, and killed during violent crackdowns in the aftermath of the February 1 military coup. They have also documented other issues such as the way SAC's forces have responded to anti-coup protests, and evidence of human rights and dignity violations by government officials.
---