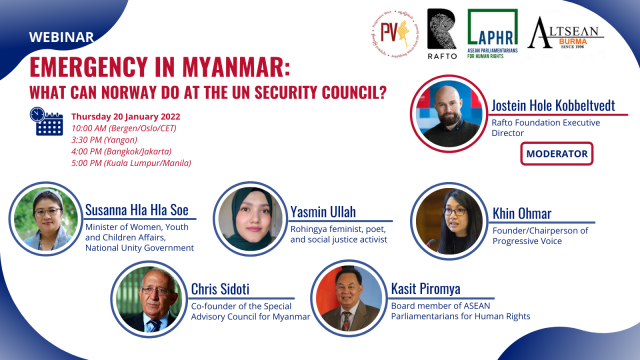 Thu 20th Jan 2022, 10am Bergen/Oslo/CET, 330pm Yangon, 4pm Bangkok/Jakarta, 5pm Kuala Lumpur/Manila.
The Rafto Foundation is pleased to invite you to the webinar "Emergency in Myanmar: What can Norway do at the UNSC?". This important event is hosted by Rafto Foundation in collaboration with the Special Advisory Council for Myanmar, ASEAN Parliamentarians for Human Rights, Progressive Voice, and ALTSEAN-Burma. Please register https://zoom.us/webinar/register/WN_Airr7HhhSrOSq-X_sUoV_g. Proceedings will be in English.
Norway's longterm support for Myanmar's struggle against military dictatorship helped secure 10 years of political and economic transition, now interrupted by the military's attempt to grab power in February 2021. The junta's escalating violence and campaign of terror against the people, as it seeks to gain territorial and political control, has plunged the country into nationwide conflict and economic crisis. It has been met by unprecedented unity and determination by Myanmar people of all ethnicities and across the country to oppose the attempted coup. But the military remains intransigent and is inflicting unimaginable suffering in an attempt to crush the democratic resistance.
In January, Norway holds the Presidency of the UN Security Council. The Norwegian Presidency's priorities are the women, peace and security agenda as well as the protection of civilians in conflicts – both intensely relevant to the crisis assailing Myanmar today.
Rafto Foundation Executive Director Mr. Jostein Hole Kobbeltvedt will moderate a panel of leading voices from the Asian region:
Ms Susanna Hla Hla Soe, National Unity Government Minister of Women, Youth and Children Affairs. Elected Karen Ethnic Affairs Minister for Yangon Region in 2020 elections, Myanmar Member of Parliament 2015-2020.
Ms. Yasmin Ullah, Rohingya feminist, poet, and social justice activist, ALTSEAN-Burma Board member, former President of the Rohingya Human Rights Network and listed by the Gender Security Project's 2021 FemiList100.
Mr. Chris Sidoti, a member of the UN Independent International Fact-Finding Mission on Myanmar, international human rights expert, academic, and co-founder of the Special Advisory Council for Myanmar.
Mr. Kasit Piromya, Board member of ASEAN Parliamentarians for Human Rights, former Thai foreign minister, diplomat, and legislator.
Ms. Khin Ohmar, veteran peace and security advocate from Myanmar, Founder/Chairperson of Progressive Voice, Anna Lindh Prize recipient and co-recipient of the Vital Voices Global Leadership Award for Human Rights.